We Tried the SkinCeuticals SkinScope, and our Jaws Dropped at the Results!
We were lucky enough to try out the SkinCeuticals Skinscope, and boy were we surprised by the results!
What is the SkinScope, you ask? This is a device that can be used in-office to show a client's sun damage, clogged areas, dry skin, and texture. You simply put your face into the SkinScope device, and take a photo with your smartphone. Our Staff at RMA tested it out, and our Licensed Medical Aesthetician, Charlot, evaluated our results.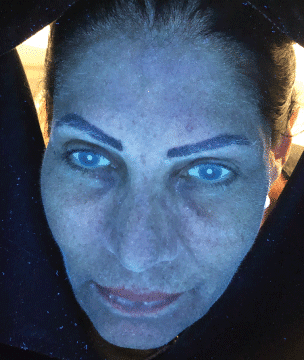 Nadine
"There are areas of hyperpigmentation and areas of dry flaky skin, which are the white areas you see here. There is darker blue under her eyes, which indicates thinner, dehydrated skin."
Charlot recommends the SkinCeuticals Replenishing Cleanser to help with dry areas. She suggests SkinCeuticals Phloretin CF for brightening the skin and for discoloration. "Since its summertime, I would follow that with SkinCeuticals Discoloration Defense so we don't have to worry about photo-sensitivity. She will need some hydrating eye cream that also helps with brightening. I recommend the RMA Eye Cream, which includes ceramides, which will not dry her out. I also recommend B5 gel for her summer hydration, and, of course, an Elta MD suncreen" says Charlot.
---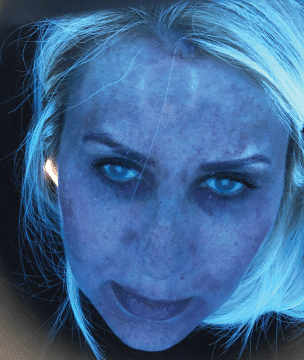 Tracy
"Tracy has some oily areas and hyper-pigmentation. The pink and orange areas are congested pores. The white are dry patches. Around the eyes, she has some thinner, dehydrated skin," says Charlot.
"Tracy should use a SkinCeuticals LHA Cleanser to clear out her congested pores. I want her using the PCA Clarity Retinol at nighttime as well. In the daytime, she should use Phloretin CF and Discoloration Defense. For added hydration, she should use the PCA Clearskin."
---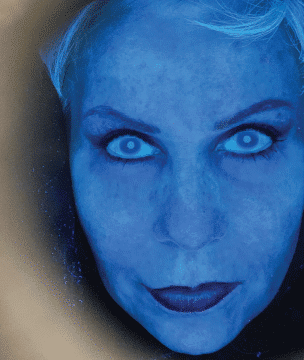 Charlot
"I use retinol, so I have some dryer patches of skin which are the white areas you see. I use Triple Lipid by SkinCeuticals for a boost in hydration. I also have some hyperpigmentation, so I use the ZO Melamix with my Retinol to correct the brown patches. I use SkinCeuticals AGE Eye Cream to help with puffiness."
---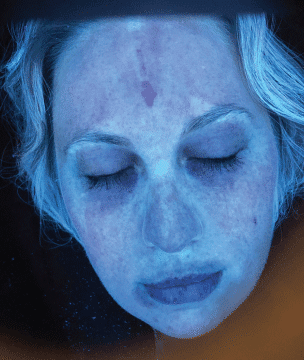 Bobbi
Charlot says, "Bobbi has some pigmentation issues."
"She should use the ZO Gentle Cleanser. I recommend the Obagi C-Serum with Hydroquinone. She should also use the Obagi C-Day Lotion. She also needs the Elta MD Tinted sunscreen since she is using Hydroquinone. She should be using the RMA Eye Cream as well."
---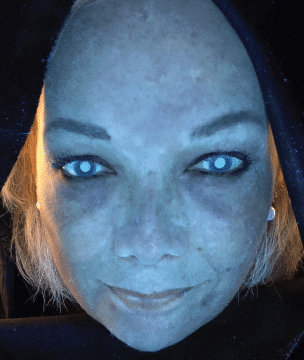 Lori
"Lori has some hyperpigmentation as well," says Charlot.
"She should use the Replenishing Cleanser by Skinceuticals. During the day, I suggest the SkinCeuticals Phloretin CF and SkinCeuticals Discoloration Defense. She should use the SkinCeuticals HA Instensifier and an Elta Sunscreen. At nighttime, she should alternate every night the SkinCeuticals Glycolic 10 Renew Overnight and the SkinCeuticals Retinol 1.0," suggests Charlot.
---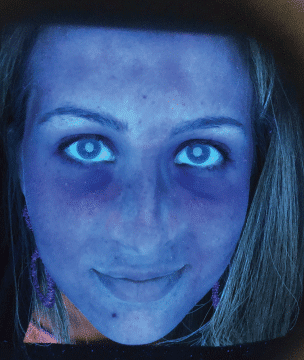 Hannah
"Hannah has circles under her eyes," says Charlot. "The pink areas around her nose are  congested skin."
"We want to use an eye cream that will brighten and hydrate the skin area. The RMA Eye cream would be great for that. For the congestion, I recommend the Skinceuticals Retexturizing Activator for the summer months. I also recommend the B5 gel for a very light hydrator."
---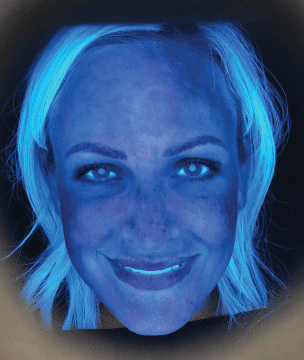 Caryn
"In Caryn's T-zone she has some pink areas, which means congested areas. She is also dry in the white areas that you see here.
Caryn should use the SkinCeuticals Metacell B (good for early signs of photodamage, also hydrates). In addition, I recommend the SkinCeuticals Glycolic 10 at night time for the congestion. For a vitamin c,  Caryn should use the Skinceuticals CE Ferulic," says Charlot.
---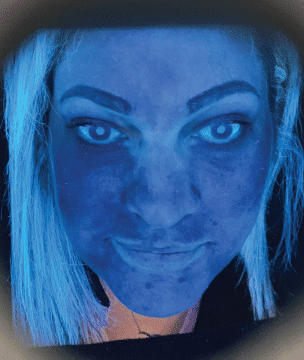 Kim
Charlot notices that Kim has large patches of darker blue, which indicates areas of thinner, dehydrated skin. Since she is doing treatments of microneedling and the 1540 laser to prepare her skin for her upcoming wedding this fall, her skin may be dry right now.
Charlot says, "We want to hydrate Kim's skin with the SkinCeuticals HA Intensifier, which amplifies the skin's moisture levels.  For thickening her skin, she should use the ZO Daily Power Defense on top of the HA Intensifier. I also recommend a vitamin C, like the ZO C-Bright 10% Vitamin C serum."
---
Want to try the SkinCeuticals SkinScope at RMA? Book a consultation with one of our aestheticians and get on a regimen to prevent, protect, and correct your skin. Call Rejuvenation Medical Aesthetics at (267) 759-6056 for more information!