Let's Get Your "Skinbetter" at RMA!
We are so excited to announce that we are now offering Skinbetter Science! This is a product line that has been through rigorous clinical research to give clients real life results. You may have seen the line featured on Instagram, New Beauty, Cosmopolitan, or on other media outlets.
Now, let's get to the products and what they can do for your skin!

The Perfect Skincare Cocktail: AlphaRet Overnight Cream
This product is considered "The Latest Gold Standard in Skin Rejuvenation." It is best for improving the appearance of lines, wrinkles, uneven tone and texture. AlphaRet differs from others in its class in that it causes little-to-no irritation.
Some other properties of AlphaRet:
Combines two gold standard skin rejuvenation ingredients— a retinoid and lactic acid
Provides moisture to help counteract dryness associated with traditional retinoid-based product.
A potent blend of antioxidants helps neutralize free radicals.
There is also an 'Intensive Alpha Ret Overnight Cream' which contains a higher level of glycolic acid for enhanced re-texturization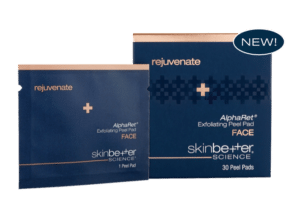 The Product Your Skincare Regimen is Missing: AlphaRet Exfoliating Peel Pads
These pads provide exfoliation, improvement in the appearance of skin smoothness, clarity, and lines and wrinkles
This is a triple-acid (glycolic, lactic and salicylic) formulation, enhanced with AlphaRet
Individually packaged pads allow for single use in the evening.
Reduces the appearance of fine lines and wrinkles, pores and rough patches
Supports exfoliation and removes dead skin to help prevent clogged pores
Lactic Acid moisturizes while exfoliating to support hyaluronic acid.

The Eraser: Even Tone Correcting Serum
This product improves the appearance of brown patches, sun damage, hyperpigmentation and discoloration.
Non-hydroquinone, non-retinol formula
Improves the appearance of yellowing that often accompanies the look of hyperpigmentation in certain skin types.

The Skincare Filler: Interfuse Intensive Treatment LINES
Patented, state-of-the-art delivery technology drives high molecular weight, injectable-grade hyaluronic acid faster to topically fill the appearance of expression lines.
Four additional types of hyaluronic acids of varying molecular weights work to bind water to the surface of the skin to improve moisture retention to plump the appearance of lines and wrinkles.
Expression lines appear immediately smoother with a blend of two neuro-calming peptides.
This targeted formula helps reduce the look of deep wrinkles and expression lines and is complementary to in-office treatments.

Your Staple Eye Cream: InterFuse Treatment Cream EYE
Improves the appearance of crow's feet, wrinkles, puffiness and under-eye darkness.
Vitamin C provides antioxidant and skin brightening benefits.
Relieves the look of under-eye puffiness through a blend of caffeine and a highly specialized yeast derivative.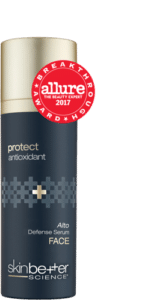 Every Single Protection Your Skin Needs: Alto Defense Serum
Daily antioxidant protection and improvement of the appearance of uneven tone and redness.
Combines Vitamin C + 18 additional antioxidant ingredients designed to provide a new level of comprehensive and dynamic defense against free radicals.
Enhances vitality and improvement in skin tone and luminosity.
Reduces the appearance of skin redness.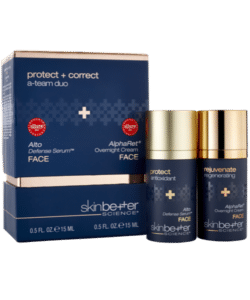 The Skincare Power Couple: A-Team Duo Kit
Contains Alto Defense Serum and AlphaRet
Provides support against the effects of daily oxidative stress and correct the appearance of lines, wrinkles, uneven texture and discoloration.
So, now that you know a little more about our new skincare line, come try it out! We have testers in the office at 451 South State Street in Newtown and we are excited to answer any questions you may have about the new line! We are also offering 2 FREE travel-size product with the purchase of any Skinbetter Science product! We hope to see you soon!