Rejuvenation Medical Aesthetic's Official Holiday Gift Guide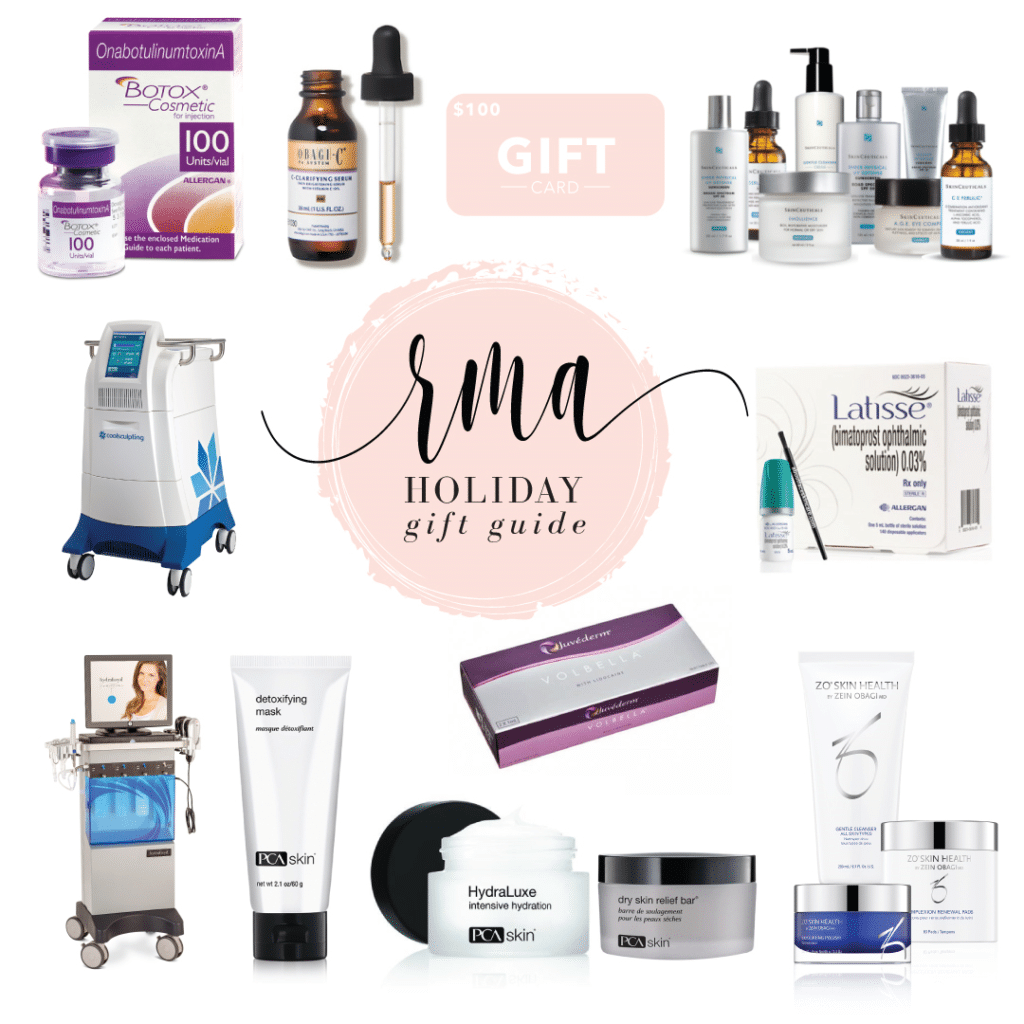 RMA has gathered a comprehensive gift guide of our favorite, must-have products to gift to a friend, family member, or even yourself this holiday season! Keep reading for all of our essential gifts for 2019.
Feeling a little stressed this holiday season? Reap the benefits of relaxation at RMA and gift yourself or a loved one a 60-minute full-body massage. For the holidays, RMA is offering our 60-minute massages for just $75!
Do you desperately need to cleanse your pores and detox from holiday party binges? The HydraFacial will do just that, along with nourishing your skin. During this treatment oil and debris will be extracted, and antioxidants will be infused to hydrate your skin. This is an affordable gift for anyone who wants a fresh, glowing look going into 2019!
What girl doesn't love a fresh Botox treatment for the holidays? Give the gift of Botox to one of your girlfriends or treat yourself! Or, is your husband, man-friend, father or brother noticeably aging but you don't know how to tell him? Gift him with Bro-tox (a nickname for Botox for men). He will see a difference within two weeks and you will be sure to have him hooked! You can purchase up to 4, $100 BOTOX® Cosmetic vouchers for only $75. You can purchase for yourselves or a loved one. Click here to purchase your vouchers!
Do you feel uncomfortable in your clothes? Do you feel like you've done every workout and diet possible but still can't lose fat in stubborn areas? If so, CoolSculpting is the gift for you this season. It is non-invasive and has little to no downtime. There is nothing like giving or receiving the gift of skinny to start the New Year off right!  RMA is offering a limited time exclusive offer of $200 off per cycle up until December 31st.
Are you looking to contour your cheekbones or plump up your lips? Or maybe you have a friend who has been wishing for this for years but couldn't find it in her budget to bite the bullet. Dermal fillers are a great and lasting gift for yourself or for a loved one to boost self-confidence and improve your appearance.
Looking for a skincare stocking stuffer? RMA's SkinCeuticals DIY (Do-it-Yourself) Travel Kit is a perfect holiday kit that won't break the bank. Choose 5 mini-size SkinCeuticals products of your choice to take on the go while traveling or to gift this holiday season! You will receive all 5 products plus the mini carrying case for just $15!
Looking for a one-stop shop when it comes to products? Cleanse, exfoliate, and tone with the ZO Getting Skin Ready Kit. It contains a Gentle Cleanser, Exfoliating Polish, and Renewal Pads to bring your skin to its most healthy, balanced state with this simple, 3-step system for just $45.
Give the gift of vitamin-c this holiday season with the Obagi C-Clarifying Serum. Our aestheticians love this serum for its hydroquinone which works to reduce hyper-pigmentation. It also L-ascorbic acid (Vitamin C) to help defend against free radicals and address the appearance of aging skin.
Long eyelashes will always be in style, but glue on lashes that fall off in the middle of an evening out will not. Latisse is an FDA-approved treatment to grow your lashes. Eyelash extensions and stick-ons take time and don't always work well, so why not grow your actual lashes for a natural look that still will have everyone doing a double take!
If you haven't grabbed one of our detox masks in-office yet or at one of our marketing events, make sure that you do! The PCA Detox Mask is an at-home mask which will minimize the appearance of pores and absorb excess dirt, oil, and debris that may be trapped deep in your pores.
Dry skin in the winter months?  Hydration is essential to keep your skin glowing year-round. Fight the indoor heaters, cold frostbite outside, and dry air from affecting your skin with some of our favorite products for this time of year: PCA HydraLuxe Intensive Hydration is a luxury moisturizer that hydrates with anti-aging benefits. It includes special anti-aging ingredients like snow algae, chicory leaf extract, and peony extract to give you the perfect combination of hydrated and youthful skin. A product that is a great face wash for winter dry skin is the PCA Dry Skin Relief Bar. It soothes not only dry skin, but also psoriasis and dermatitis. It also controls itching and flaking. It is perfect to keep by your skin for a night-time face wash, or right in the shower for the perfect cleanse. When you purchase a PCA HydraLuxe Intensive Hydration, you will receive a free full-sized PCA Dry Skin Relief Bar!
If you want to give the gift of beauty at RMA but aren't sure what treatment or product your friend or family member may want most, RMA is offering a FREE $20 gift card with every purchase of a $100 gift card up until December 31st.
If you are interested in any of these treatments for a gift for a friend or family member or even yourself, you can visit us at Rejuvenation Medical Aesthetics in Newtown, PA. You may also book a free consultation by calling us at 265-759-6056.
We wish you the happiest of holidays from our team at Rejuvenation Medical Aesthetics and look forward to helping you stay beautiful!