Rejuvenation Medical Aesthetics Now Carrying SkinCeuticals!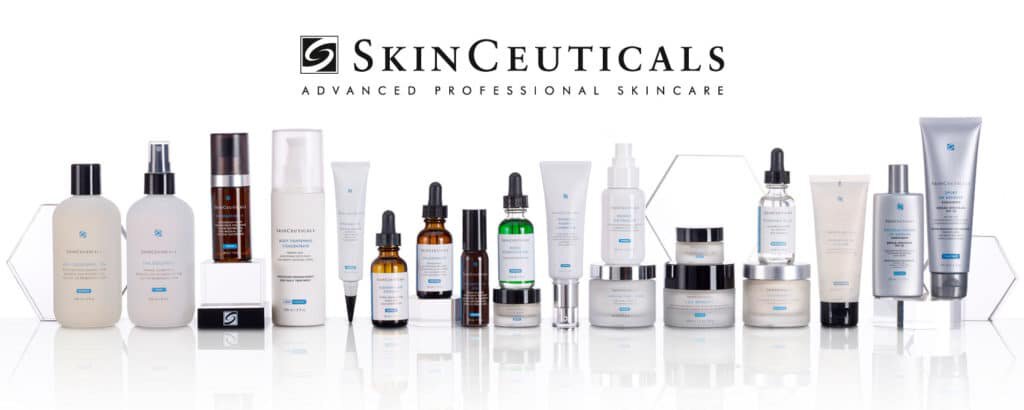 FAQ: Everything you Need to Know About the Skincare Line
We are so excited to introduce you to SkinCeuticals! As we expand our space and services, we want to provide you with a plethora of product options as well. We interviewed our SkinCeuticals Rep and Expert of the product line, Jaclyn Strausser. She is here to tell you everything you need to know about SkinCeuticals!
What inspired you to work with SkinCeuticals?
"I was a medical aesthetician for five years and during that time I worked with and loved SkinCeuticals. I really loved what it did for my patients, so it was a no-brainer that I always dreamed of working for them one day.  I was recruited by my SkinCeuticals representative to get into their education department and that is where my journey at corporate SkinCeuticals began. I moved to Miami and traveled the southeast coast training accounts on our products and peels. From there I was promoted to a sales position. I have been the representative in Philadelphia for almost 2 years now. I relocated from Miami to Philly because I am from Northeastern PA and wanted to be closer to home."
Do I have to have a certain type of skin to use SkinCeuticals?
"Anyone can use SkinCeuticals – we have something for everyone, including those with sensitive skin."
What are your favorite top 3 products in the line?
"CE Ferulic, HA Intensifier and Resveratrol BE . . . it's not fair that I only get to pick three!"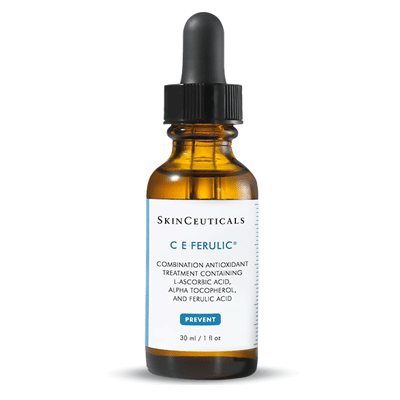 If I can only afford one product right now, what should I get?
"Hands down an antioxidant (vitamin c serum) that is correct for your skin type. CE Ferulic if you are normal to dry skin, Phloretin CF if you are more normal to oily and your main concern is hyperpigmentation issues, C+AHA if you are acne prone, and serum 10 or 15 if you run more sensitive or are on a budget. You will notice such an improvement in as little as 1 week. Overall, skin tone, health and clarity is greatly improved."
What are your favorite SkinCeuticals peels?
"My personal favorite are our acne peels – we have two strengths 20% and 30%. They are known as our MicroPeel Plus treatments.  I am partial to these because I am acne-prone. Overall, our most loved peel nationally is our Sensitive Skin Peel.  There is no downtime, it leaves leaves skin glowing and hydrated, and it can be done on all skin types. When combined with dermaplaning before hand I call it 'HydraFacial in a bottle.'"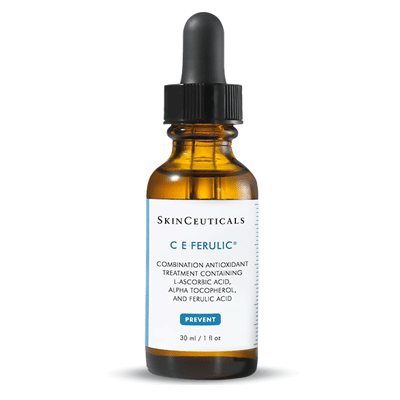 What is CE Ferulic?
"CE Ferulic is liquid gold.  It is our best selling product in our line – so much so that last year we sold $22 million, yes million, dollars worth of it! CE Ferulic is the best antioxidant/vitamin c serum on the market.  Our company is known as the antioxidant authority because we were the first to formulate a vitamin c the correct way (so it penetrates the skin), and we put antioxidants on the market. CE Ferulic is a daily serum that has been proven to be anti-aging because it protects against outside skin aggressors that damage and age our skin like pollution, UVA/UVB rays, and IRA.  80% of our aging comes from external aggressors, so this is the best thing you can to do improve not just the appearance, but also the health of your skin. Everyone wants one powerhouse product and this is it. Skin tone is improved, sunburns are decreased, pores look smaller, redness is reduced, skin heals quicker and collagen is supported. What more can you want?"
What is one thing people may not know about SkinCeuticals?
"Two things: One, we are the only medically dispensed, non-mass market retail beauty company owned by L'Oreal. Two, we are officially the number one medically dispensed skin care line in the US and we are super proud of that status."
What is a common misconception about SkinCeuticals products?
"That we aren't medical grade skin care – we are. We have over 200+ published clinical articles and studies on our products to prove that our products do what they say they are going to do and this is why our products are so well received and loved."
Are your products tested on animals?
"They are not. We pride ourselves on the fact that we test on live human skin and at times live human skin punch biopsies of skin.  We look for key biomarkers that are positively changing in the skin before we launch a product because we want to make sure it works and that it is safe before we ever put it out to the marketplace."
At what age should I start a skincare routine on these products?
"The earlier the better but I would say our average client tends to be 35 and up. I have put teenagers on our products with great success and I started these when I was in my early 20's."
So, there you have it. SkinCeuticals is the new liquid gold! It is now being sold at our new office located at 451 South State Street in Newtown. Stop in today to try some of our amazing products and pick up some free samples!