Our Mother's Day Top Product Picks

Looking for a last-minute Mother's Day Gift? Look no further-we have curated all of the best products to spoil your mom this Mother's Day. Moms are always busy taking care of everyone else, but they deserve to be taken care of too. Below are our favorite skincare products to keep mom looking and feeling like her best self this Mother's Day!
Tracy
Every super mom needs a shield. Broad Spectrum 30 or above, preferably a physical block, with zinc and/or titanium dioxide. I recommend Elta MD- we have formulations for all different skin types. Give your mom the power to fight off aging rays for mother's day!
Charlot
My favorite product for all Mothers would be Tretinion also known as Retin-A. It's the skincare product that treats fine lines, wrinkles, sun damage, acne, dull or uneven texture, redness and even Rosacea. She'll love  the anti-aging results that reveal themselves  after consistently using it. Give Mom the gift of healthier, glowing skin!

Lori
I am a firm believer that our skin knows how to repair itself in the best of circumstances.  However we are constantly exposed to environmental attacks which causes inflammation and collagen breakdown.  So, when a client comes to see me for the first time I always ask,  do you use a vitamin c daily on your face?
My favorite skin care product is SkinCeuticals Vitamin CE Ferulic which I often refer to as liquid gold.  It is a serum formulated with Pure L Ascorbic Acid, a high potency Antioxidant that is created with the perfect pH for the best Vitamin C absorption.
This product protects the skin, encourages self repair, and reduces signs of aging. If you purchase only one skincare product I recommend SkinCeuticals Vitamin CE Ferulic.  Your skin will thank you with a glow.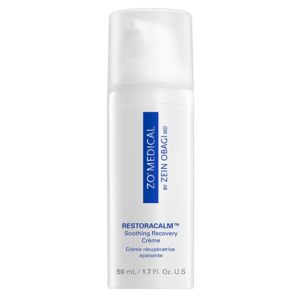 Bobbi
"ZO Skin Heatlh Health Restoracalm is the most calming product I have ever used. It is great after a laser, peel, HydraFacial, or Dermaplane. This is a great moisturizer for sensitive skin. It is perfect paired with a retinol or tretnoin.
Need to pick up one of these products this weekend? We are open this Saturday from 9-2! Mention this blog and receive 10% off these products.
We are also offering a gift certificate special this Mother's Day: Purchase a $100 gift certificate and receive a $20 gift certificate.
We look forward to seeing you this weekend!