Rejuvenation Medical Aesthetics is thrilled to welcome our newest provider and her services!
Clients know (and love) Licensed Medical Aesthetician Kathy Masterson for her customized approach – to offer a one-of-a-kind solution for each client. Whether it is the most glamorous lashes he or she longs for, or for the best brow enhancement by microblading, Kathy uses her expertise to yield only the best results.
Kathy began her career in pharmaceutical sales, which lasted for over 20 years. She has always had a passion for aesthetics- specifically work requiring incredibly fine detail. Kathy then went on to attend Metro Academy in Allentown, PA. There she became a licensed aesthetician-the career she knew she was always destined for! Following, she earned a certification from Extreme Lash Company as a Lash Stylist, and from Deluxe Brows International for microblading.  She is dedicated to her work and continues to provide only the best service possible for her clients. "Nothing is better than seeing the reaction from a client when you've made an enhancement they love," says Kathy.
She is here to answer all of your questions about microblading.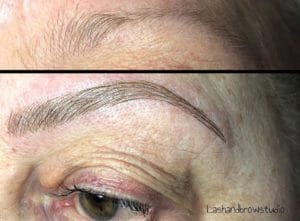 What is the difference between eyebrow tattoos and microblading? 
Microblading is the process of creating fine, hairlike strokes using a manual microblade tool and pigment. Traditional tattooing of the eyebrows is done with ink and a tattoo machine.
How exactly does it work?
The eyebrow shape is defined through a series of measurements. Once a shape is agreed upon with the client, hairlike strokes are made on the surface of the skin and pigment is implanted.  The "strokes" are done manually, and result in a hair-like effect. This process is considered semi-permanent makeup, and is done using pigment.
Does it hurt?
There is a lidocaine solution used for 20 minutes prior to numb the area and another topical anesthetic that can be used during the procedure.  I will work with each individual client to assure they have the most comfortable experience possible.
Do your eyebrows grow back the same afterwards?
Yes. once the shape is remeasured and agreed upon, any eyebrow within the new or enhanced brow shape stays, and additional hair-like strokes are made around it.  Your hair will continue to grow as usual-it has no affect on that.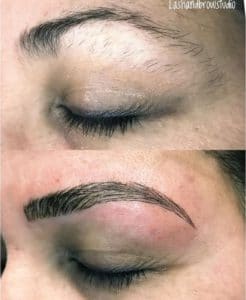 How long does the procedure take?
The initial appointment is 3 hours and the follow-up is 1.5 hours.
Is there any downtime?
No. However, there are restrictions of what can go near/on your brows.
How long does it last?
On average, it will last up to 18 months before you will need a touch-up.
What are things I should do before and after the procedure?
It is recommended to avoid Ibuprofen, Tylenol and alcohol 3 days prior to your procedure.
Are there any risks?
Following aftercare instructions to the T is the most important part of your treatment in order to avoid the risk of infection.  There should be no problems if the instructions are read through and followed thoroughly.
Who should not get microblading?
Microblading is contradictive to people who are sensitive or allergic to pigment or dyes, are on blood thinners such as Coumadin, those who are uncontrolled diabetics, or those who have scars that heal keloid.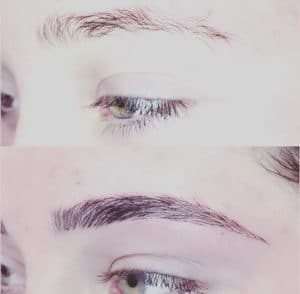 How do I know if I can trust my microblader?
Ask questions and make yourself knowledgeable!  Ask where the provider has trained and for how many hours. Every reputable microblading training company will have a website, so clients are encouraged to look up the information.  Ask about insurance coverage, as most will have minimum requirements of training to offer policies.  Look at before and after photos and ask for testimonials if necessary.  You should have a consult with your potential microblading professional prior to committing.
Give us a call at 
(267) 759-6056
 to book your microblading consult with Kathy today!